About a fifth of the world's greenhouse gas emissions stem from transportation—and around 72% of those come from road vehicles. Crucially, the focus for reducing those road-based emissions has been electrifying vehicles, such as America's most popular auto, the Ford F-150, whose Lightning version launched April 26. Often overlooked are the roads themselves, which are ripe for change.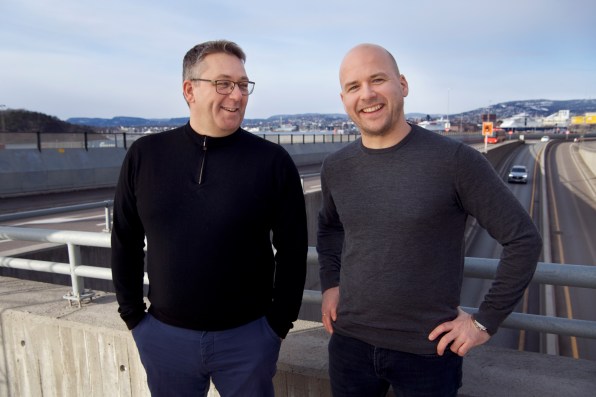 "There hasn't been much innovation in the road space since the Roman ages," says Haakon Brunell, founder and CEO of Carbon Crusher, on today's episode of the World Changing Ideas podcast. The Norwegian company repairs roads using a carbon-negative method, vital when the age-old process is highly carbon intensive; according to studies, constructing a lane-mile of road releases between 1,400 and 2,300 tons of CO2, even before any maintenance or reconstruction. That's in part because road materials are bound together using bitumen, a sticky, blackish substance that's a byproduct of crude oil.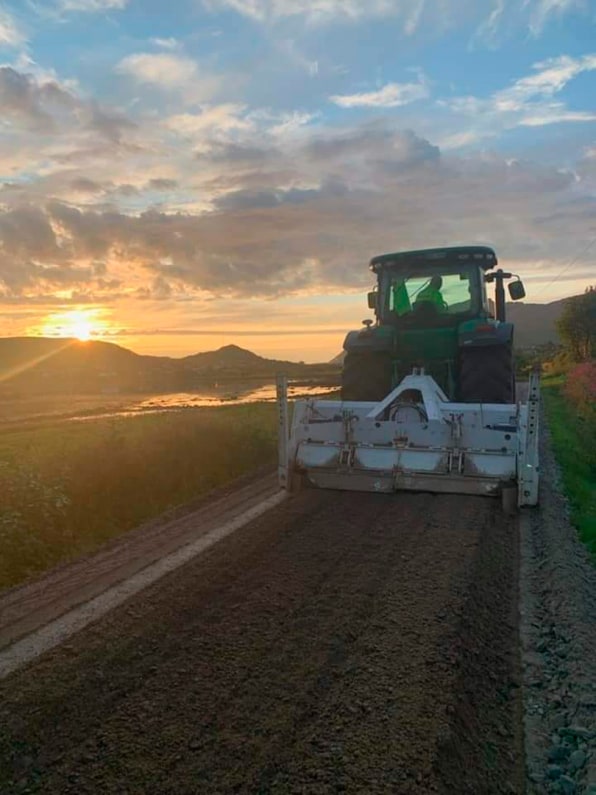 Carbon Crusher builds new roads as well as fixes old and damaged ones, and it does so using lignin, an organic polymer found in trees that becomes a waste byproduct of paper production (and which is often then burned, generating more emissions). This "green carbon binder," as the company calls it, contains carbon from its natural life, and continues to sequester carbon in the roads.
"All the carbon the trees sucked up over a lifetime, we're putting that to good use in roads," Brunell says, noting, "The good—and bad—thing about our industry is that there are terrible roads everywhere. There's a huge road infrastructure lag globally."
The company's literal carbon crusher, an 8-ton metal robot perched atop a John Deere tractor, pulverizes the roads, breaking them into fine gravel and then binding the particles with the lignin.
The crushing not only doesn't require any new materials, but it also makes the operation carbon-negative since the lignin sequesters carbon. (The crusher vehicle is currently diesel, which Carbon Crusher plans to power by hydrogen or electricity in the near future.)
According to the company, its method reduces emissions by approximately 3.5 tons per 100 feet of road, compared to traditional methods. "At the core of our vision is to move the planet from gray to green," Brunell says.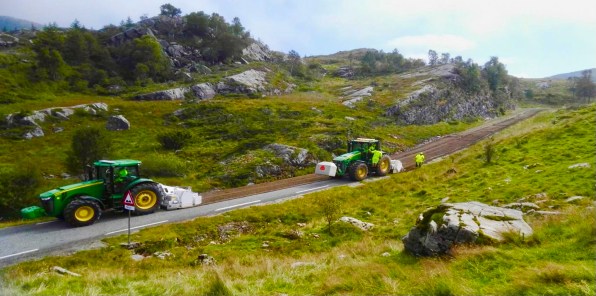 Carbon Crusher has already made a good start in its home country of Norway. In 2021, it reported revenue of $1.5 million, and since its founding, it has worked to stabilize 27 million square feet of roads, which it says removed 8,605 tons of carbon. Plans are to expand to other European countries, and even to go to the U.S., which offers plenty of opportunity from 6.6 million miles of roads that are much in need of repair.
"Infrastructure improvement is top of the agenda almost everywhere," Brunell says.
Brunell is also optimistic that his company could provide more affordable alternatives for budgeting woes. In addition to its climate benefits, Carbon Crusher's process is cheaper than traditional repair, can be used immediately after construction, and is often more durable, because lignin is less susceptible to cracking.
"We hope there will be more [customers] soon," he says. "Because the planet needs it."
You can listen and subscribe to World Changing Ideas on Apple Podcasts, Google Podcasts, Spotify, Stitcher, or wherever you get your podcasts. 
Editor's note: An earlier version of this story said that Brunell was the COO, not the CEO. It also said that the company worked to stabilize 27 million square feet of roads, and removed 8,605 tons of carbon, in 2021, rather than since its founding. We regret the errors.